Meet Aninha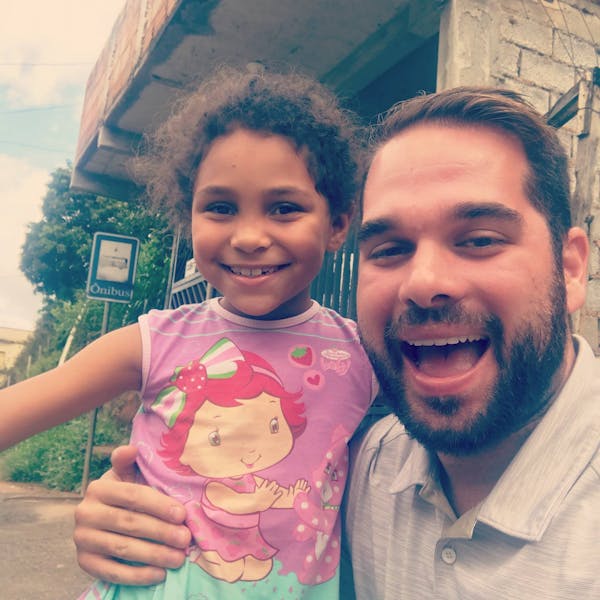 Oi! This is Ana Beatriz and she is 7 years old.
I met Aninha (Ana) during my last trip to my hometown, Juiz de Fora, Brazil. I was hanging out at my older brother's house when I asked my mother, to come over so we could go to the mall to run some errands. My mom explained that she had Ana with her and would need to bring her as well. This was the first time I had heard of Aninha. Apparently she was the neighbor girl that my mother watched over (and helped feed) on the weekends. When my mom showed up with her, I instantly knew there was something special about her.
She was over the moon to finally meet me. It was like a super-fan meeting their favorite celebrity. She already knew all about me, my wife, my family. She introduced herself as my new 'sister'. It was clear she had a strong bond with my mother and felt she was a part of our family, but at this point I wasn't certain why. She gave me the biggest, most fulfilling hug I have ever received. I later learned my mother had been sharing photos of me and our family with her and updating her on our lives during their weekends together.
We all went inside my brother's house and Ana's curiosity grew as she began exploring his home in awe. My brother has a daughter the same age as Ana, named Julia, but she was not home that day. Ana was immediately drawn to Julia's room. I followed her and watched her utter awe as she saw Julia's bright pink room and plethora of Barbie's and girly toys. Her eyes lit up as she whispered "There are sooo many toys here!" At that moment, I realized this was probably the first time she had seen anything like Julia's room. I could not hold back my tears and it was clear that God put that child in my life for a reason.
We all piled in the car and took off to the mall to complete our errands. When we first stepped into the mall and began to see the troves of goodies of all types I expected to see Ana light up again.. but no, Ana's attention was not on any of these material items. She simply asked to hold my hand as we walked in the mall. I was blown away. This little girl had so much love to give with so little that was given to her.
The next day I sat with my mom to ask her about Ana, and she told me that she lived in a delapited house in a very poor nearby neighborhood in Juiz de Fora. Her parents struggled with drug addiction, and her father was currently in rehab, leaving the mother to take care of Ana on her own. When my mother learned that Ana was often left home alone on the weekends, she invited her into her home and always made sure she was fed. It became a routine, and over time this is how Ana had learned so much about our family and created such a strong connect to us. My mother did not have much to give, but did everything she could to help Ana. When she learned Ana was not going to school due to a lack of supplies, my mother bought her a notebook and she started going to school again. It made my heart smile to hear about how she skipped for joy once she was able to go to school again.
It was time to have lunch and my mom had cooked a delicious spaghetti with french fries, I began preparing my plate and Ana immediately shouted. "No Rodrigo!" Let me make your plate because you have long travel home". I was so touched that she was so caring and so full of love, despite the harsh realities of her life. In just 2 days she had already taught me so much. We began talking and I started asking her questions about herself, her dreams and her hobbies. This is what she told me:
Her name is: Ana Beatriz Cardoso da Silva
Her dream: To be a model in New York
Hobbies: She likes to play with barbies but she doesn't have any and she would love to have a bike to ride.
Food: She loooooves chocolate cake.
Dance: She wants to learn ballet
Art: She loves to draw and paint.
The last thing she told me was that she was going to learn English so she can talk to her family in the US (my wife and family).
Before I left, I promised Ana I would write about her in the US and that some godparents would listen to her story and immediately fall in love with her as much as I did. Tears fell as I saw the extreme gratitude welling up in her eyes. She is a big dreamer, with a huge heart and deserves all the opportunity in the world. Thus, I am setting up a GoFundMe in her honor and for her 100% benefit. Any amount, even $1 will go a long way for Ana.
UPDATE:
First of all, thank you so much for continuing to donate to Ana's cause. After reaching the incredible amount of almost 1200 dollars my mom and I decided to change the plans for her.
Scenario: My mom took some time to explain the scenario Ana lives in. Her house is very humble and small and they all sleep together in the same room. So my idea to buy her a princess bed wouldn't really work because there wouldn't be any room for it. barbies and tons of toys would just add "noise" to the amount of needs she has.
My mom explained how Ana's mom is "interested" in the money already so my mom had a brilliant idea.
Brazil's public education is terrible and private schools are the only option. Recently private schools adopted the American full time format, and several "municipal private" schools in my home town offer 8-5pm classes with English, Art, Dance etc..
The current cost per month is incredible low ($200/mo) and they feed her and transport her. I think this would be a great opportunity to invest the money directly to her well being without having her mom even touch the money or the things she might sell from that money.
I talked to her on the phone about the idea and she was like: ***YESSSSSSSS! Please take me to a good school! I want to learn English! I don't mind having barbies or toys just take me to a good school!*** I mean.. this girl is just incredible!
She also asked for an iPad if she gets A in every class. LOL (Little she knows I have an iPad saved for her already)
Anyways. I just want to update all of you on this plan. I cannot be more thankful for your support. My mom is going to that school tomorrow to try a discount so we can provide 1 year of a good deserved education for Ana.
I will keep you guys posted. My mom already took videos and photos of her but she just can't wrap her head around sending those to me over the phone. ( I am impressed she was able to take videos and photos already despite the quality we will receive them. LOL)
"If you want to change the world, begin by being the change you want to see"